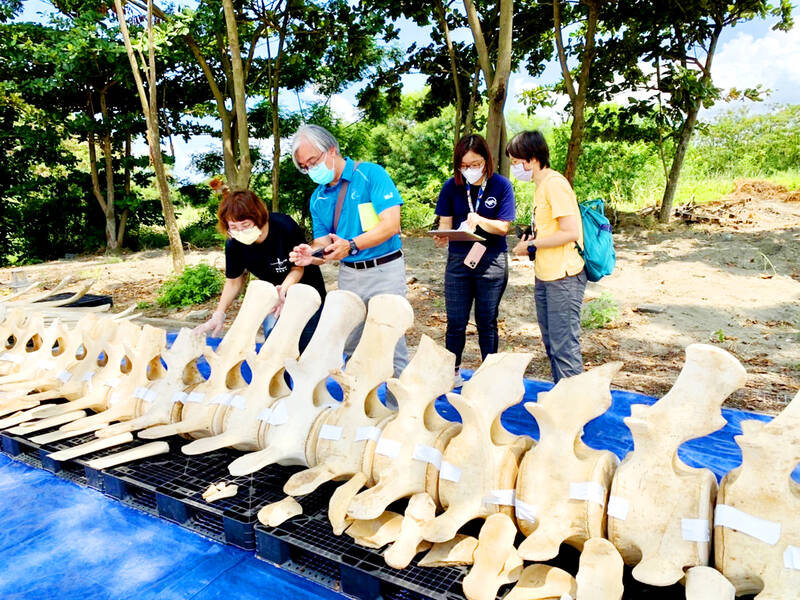 Stranded whale skeleton to be exhibited: agency
The skeleton of a blue whale that stranded in Taitung County will be put on display at the National Museum of Marine Biology and the Pingtung County Aquarium next summer, the Ocean Conservation Administration said.
The whale's carcass was found in January 2020 on a beach in Changbin County (長濱), the agency said, adding that it was the first recorded blue whale stranding in Taiwan.
The agency at the time invited experts to study the carcass, given the rarity of the incident nationally and globally.
Photo courtesy of the Ocean Conservation Administration
In November last year, the agency signed a memorandum with the Museum and Marine Biology and Cetacean Research Center of National Chen Kung University to restore and preserve the animal's bones and put them on display. to raise awareness about conservation.
Even though the whale was relatively young and only 20 meters long, the preservation work was extremely difficult, the agency said, attributing the challenges to the animal's cartilage tissue and fractured skull.
After steaming – a process used to remove soft tissue from bones – the bones are defatted, dried and blanched several times before they can be stored and used for more complex tasks, such as placing, coloring and decorating. assembly, he said.
The agency built a model using 3D scanning to ensure the bones are stored and assembled correctly.
The model also simulates the restoration of missing parts of the skull, which would provide the team with a reference when reconstructing the skull, the agency added.
The university has so far processed 156 bones and turned them over to the museum for further restoration, she said.
Comments will be moderated. Keep comments relevant to the article. Remarks containing abusive and obscene language, personal attacks of any kind or promotion will be removed and the user banned. The final decision will be at the discretion of the Taipei Times.