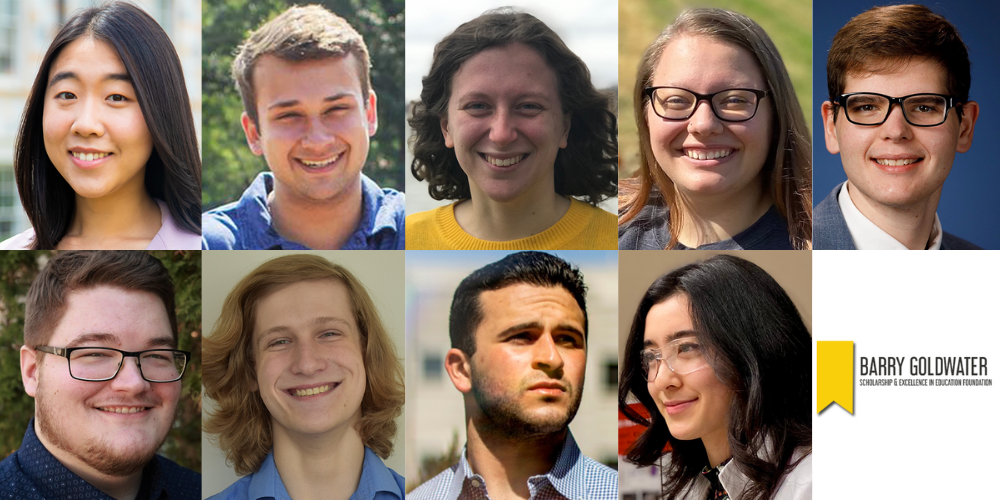 Goldwater Fellows Announced
The Barry Goldwater Scholarship & Excellence in Education Foundation has announced its 2022 class of scholars. The award, given to second- and third-year undergraduate students, supports more than 400 students majoring in science, engineering, and math.
Nine members of the ASBMB student chapter are among this year's winners:
Ryan Osselborn, a junior at Lake Forest College in suburban Chicago, plans to pursue a doctorate. in biomedical sciences after college and hopes to find new diagnostic biomarkers for neurodegenerative diseases such as Parkinson's disease.
---

Kade Townsend, a junior currently studying the evolution of antibiotic resistance in Pseudomonas aeruginosa at the University of Kansas, has an interest in research in bacterial genetics, particularly human pathogens, and plans to earn a Ph.D. in microbiology after college.
---
Ari Zlota, a biochemistry major at Northeastern University in Boston, is interested in medicine and plans to apply for an MD. immunology programs. He wants to study the role of the immune system in wound healing to develop regenerative medicines.
---

Yena Wooa junior at Emory University, studies the role of a fibrinolytic cascade in the recovery of an ischemic brain and wants to lead a lab developing new therapies for neurodegenerative diseases after earning an MD/Ph.D.
---

Giona Kleinberg, a junior at Northeastern University with a major in biochemistry-bioengineering, is interested in translational research in developmental neurobiology and hopes to earn an MD/Ph.D. and run his own lab.
---

Taylor McGee is a student at Hampden–Sydney College in Virginia with an interest in computational biology and bioinformatics. He plans to develop antiviral drugs and teach after earning a doctorate.
---

Gretchen Fujimura is a student at Oregon State University. She plans to earn an MD/Ph.D. in immunology, focusing on virology and biochemistry, and to develop vaccines.
---
Raegen Esenwein is a student at Duquesne University where she has been studying the role of a topoisomerase in viral infections for several years; she plans to get a doctorate. in molecular biology and biochemistry.
---

Sarah Fahlberg is a junior at the University of Wisconsin-Madison, who plans to pursue a Ph.D. in computational biology and developing computational tools that can be used to model the structure and functions of proteins, to eventually run a lab.